Six new 'caminos de olivos' to feature on Spain's newest one-day event
The 2023 Clásica Jaén Paraíso Interior will have a revamped route while keeping the landmark features of last year's first-ever edition won by Alexey Lutsenko. On February 13th, a peloton including several UCI WorldTeams will roll over a 179-kilometre course on which the 'sterrato' sectors through Jaén's sea of olive trees will be the main challenge – and attraction.
The cities of Úbeda and Baeza, both considered as World Heritage by UNESCO, will be the start and finish venues of the race, exchanging their roles from the previous edition. Six new 'caminos de olivos', one of which is going to be renamed after a contest that is being held on social media this very week, will feature. Last but not least, a Gran Fondo version of the event will be held on the eve of the pro race.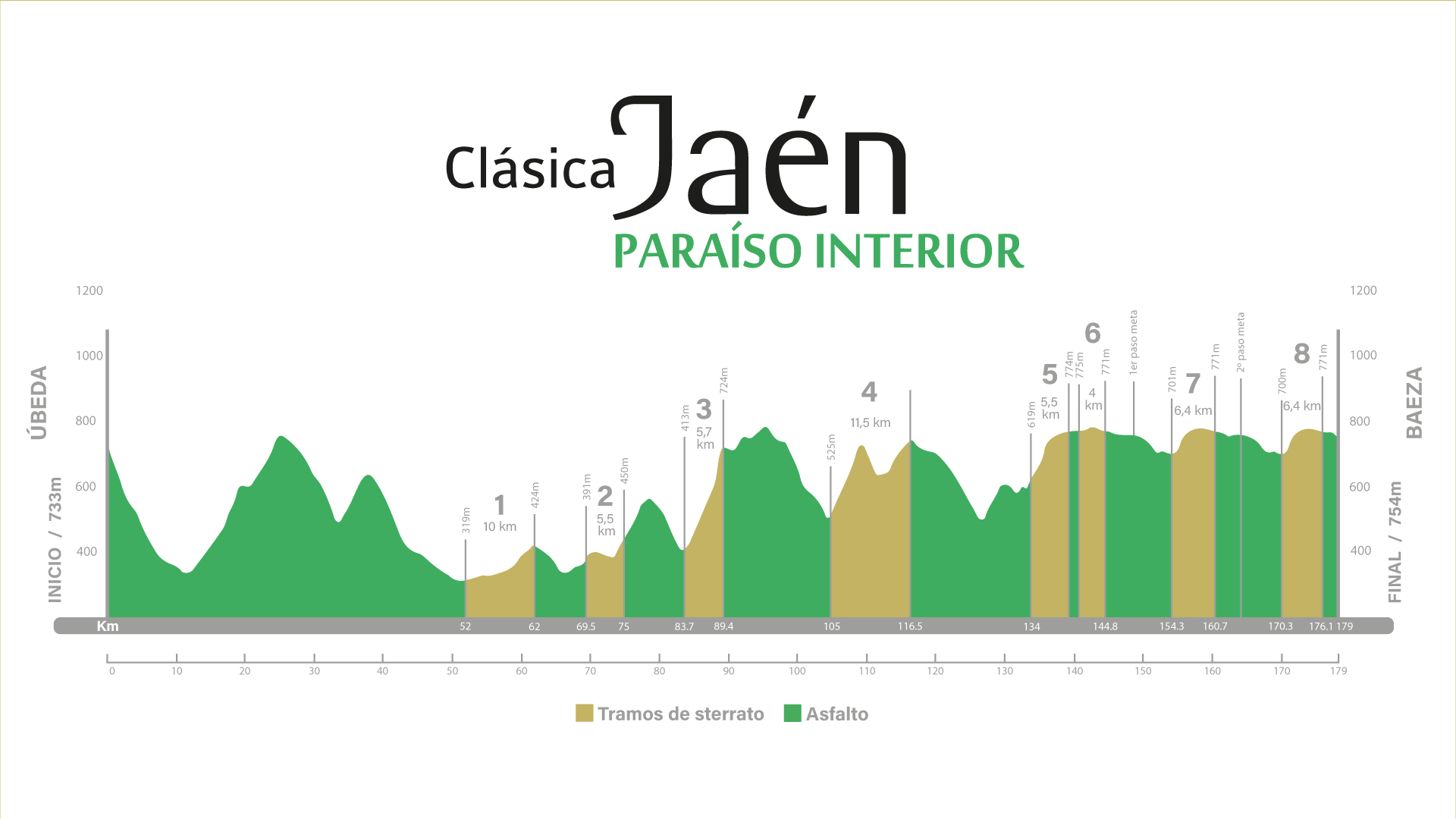 "It's going to be such a spectacular race," says Pascual Momparler, head of the organization of the Clásica Jaén Paraíso Interior. "We've kept the traits that distinguish our event, such as the 'sterrato' and the sea of olive trees, and also tried to reduce the toughness of the route."
"Our intention is to showcase Jaén at its best. The early kilometres of last year's Clásica Jaén Paraíso Interior went through the Sierra de Cazorla, and this time we are paying visit to Sierra Mágina. As for the 'caminos de olivos', we are using only one of those we picked last year, plus an extended version of the Ubbadat sector on which Alexey Lutsenko made his race-winning attack on 2022."
The name of sector number 5, located in the outskirts of Baeza, was chosen by the race's fans over at @ClasicaJaen Twitter and Instagram channels. They picked to name it after renowned author Antonio Machado.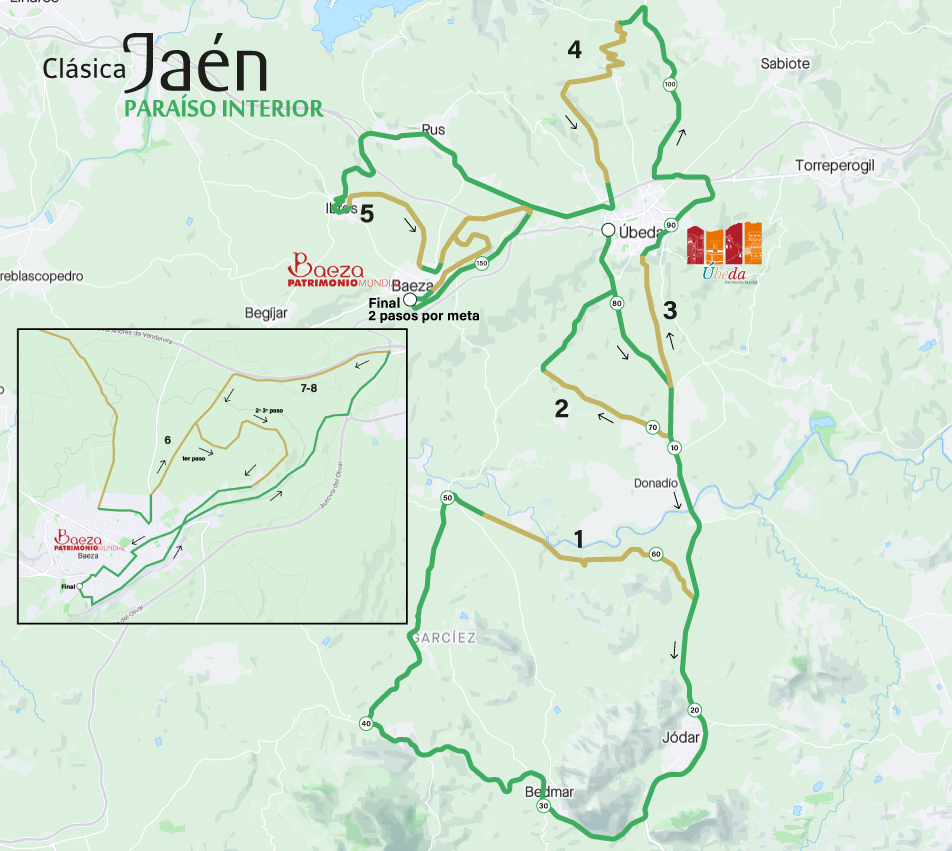 "As last year, there will be a final circuit of 16 kilometres on which the riders will do three laps," elaborates Pascual Momparler. "This circuit will roll in and around Baeza, with a final 'camino de olivos' on which there is a steep hill that might turn out to be race-defining. There are less meters to climb on this circuit than there were on last year's, a factor that might also be decisive."
The day before the pros tackle the Clásica Jaén Paraíso Interior, its sectors number 3, 4, 5 and 6 will be ridden by the amateurs taking part on the Gran Fondo Jaén Paraíso Interior. This sportive event will give cycling fans the chance of enjoying the very same feelings some of the best riders of the world will experience next February 13th in Jaén.
Key Infos – Clásica Jaén Paraíso Interior 2023
· 179 kilometres, of which 55 km will be on 'sterrato'.
· Final circuit of 16 kilometres in and around Baeza.
· 2.300 meters of elevation gain.
8 'sterrato' sectors / caminos de olivos
1. Bayyasa (km 51,1; 10,9 km)
2. Marimingo (km 69,2; 5,4 km)
3. Valdeolivas (km 83,4; 5,4 km)
4. Ubbadat (km 104,6; 11,1 km)
5. Antonio Machado (km 134; 3,5 km)
6. Cruz de Jaboneros (km 139,9; 4,2 km)
7. Virgen de la Salud (km 153,9; 6,5 km)
8. Virgen de la Salud (km 169,8; 6,5 km)
Photo: Sprint Cycling Agency