Slovenia's Tadej Pogačar took the second edition of the Clásica Jaén Paraíso Interior by storm. Cycling's marquee star triumphed with a long-range attack, taking off with more than 40 kilometres to go and finally reaching the finish line in Baeza with remarkable daylight between him and his chasers. As a testament to UAE Team Emirates' excellent teamwork, Tim Wellens stood in the podium along with Pogačar and Ineos Grenadiers' Ben Turner.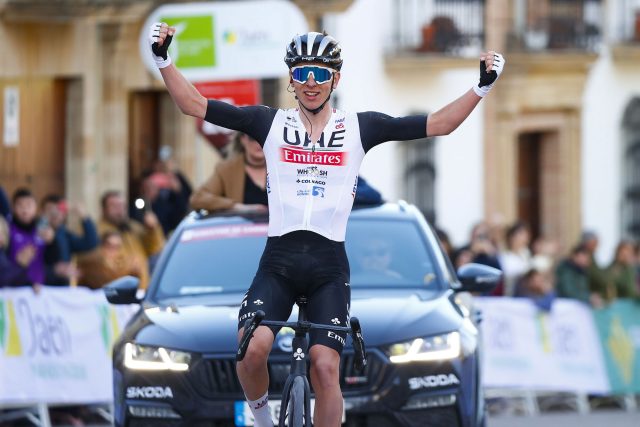 112 riders took the start on the second edition of the Clásica Jaén Paraíso Interior, held over 178 kilometres between two cities considered as World Heritage by UNESCO, Úbeda and Baeza. It didn't took long for the fight to begin, as the lumpy terrain over Sierra Mágina was an ideal scenario for the attackers. After 20 kilometres, five cyclists managed to go clear: Sergio Samitier (Movistar Team), Matthijs Paasschens (Lotto-Dstny), Camilo Ardila (Burgos BH), Xabier Mikel Azparren (Euskaltel-Euskadi) and Mathis Le Berre (Arkéa-Samsic).
At kilometre 38, the 5-man group held a 3'50" gap on a bunch led by UAE Team Emirates. The first two Caminos de Olivos, Marimingo (km 68,8; 5,4 km) and Valdeolivas (km 82,7; 5,4 km), decimated the peloton down to 50 riders as Ardila was dropped from the front group. In the third gravel sector, Ubbadat (km 103,7; 11,1 km), Samitier and Azparren stepped up the pace and left Paasschens and Le Berre behind.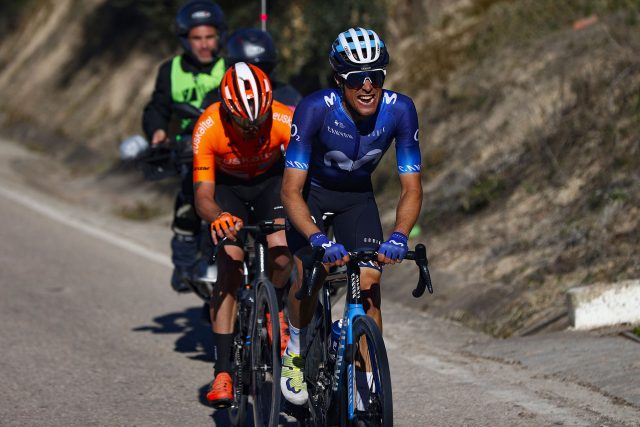 Samitier dropped Azparren and went solo with 52 kilometres to go. Right in the Antonio Machado (km 133,1; 3,5 km) gravel sector, named after a celebrated poet whose life path was deeply intertwined with the city of Baeza, Tadej Pogačar (UAE Team Emirates) took off from the bunch and caught Samitier. The newly-formed duo cooperated as they approached the Cruz de Jaboneros (km 139; 4,2 km) sector, closely followed by a chase group with Mads Würtz Schmidt (Israel-PremierTech), Ben Turner, Ben Tulett (Ineos Grenadiers), Andreas Kron (Lotto-Dstny), Lorenzo Rota (Intermarché – Circus – Wanty) and a couple of Pogačar's teammates: Marc Hirschi and Tim Wellens. At the end of the aforementioned sector, with 36 kilometres left to race, Pogačar dropped Samitier for good.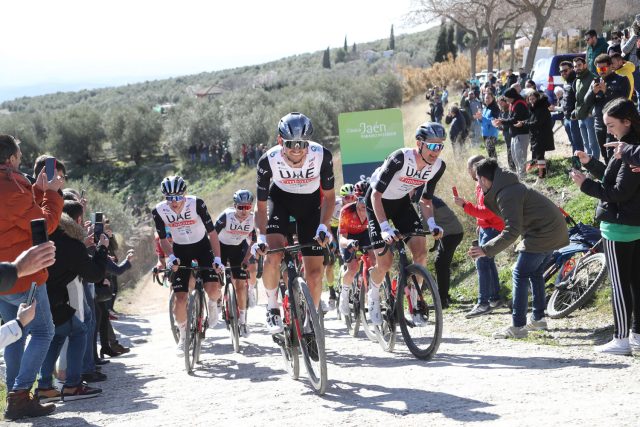 This wouldn't be cycling if victory hadn't come with at least a scare for Pogačar, who punctured with 8 kilometres to go. He had a big margin on his pursuiters, though, and made it to Baeza with enough time to enjoy this victory on his first racing day of the current season. Behind the Slovenian, Turner and Wellens went clear from the rest of the chasers to finish second and third. Pogačar put an emotional note to his performance by dedicating his winner's jersey to Estela Domínguez, promising Spanish rider who passed away as recently as last week.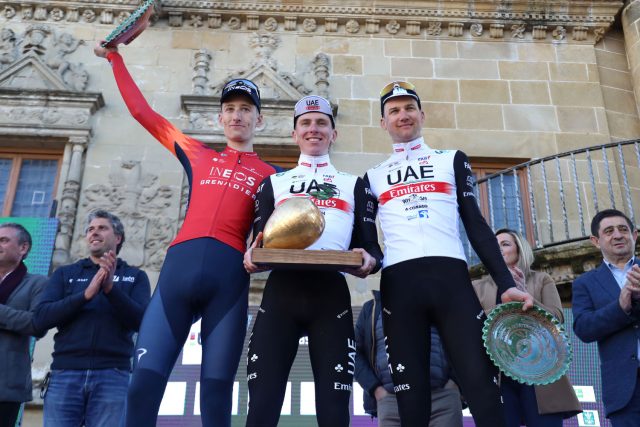 Tadej Pogačar: "So far, so good! Starting the season like this, I couldn't be happier. The team worked so well today. It was a fairytale finish for us, with the 3rd and 4th place as well as the victory – it's perfect! The plan was to attack where I did. We decided it after yesterday's recon. The teamwork was perfect, and our teammates put us in a perfect position to pull it off. Tim Wellens did a great job coming into the gravel section, and then Marc Hirschi finished setting it up. Afterwards, it was just about using all the power I had on my legs during the last 2 kilometres of the climb. Everything went down to plan, as I managed to stay alone all the way to the finish. It makes for a perfect start of the season. My flat in the final kilometres? It was a scary moment! I was lucky to have a big lead on the chasers, so it didn't turn out as stressful as it could have been."